The Best Place To Buy Or Sell Second Hand Or Used Ice Rinks And Ice Rink Equipment
Search
Showing 1 - 1 of 1 items
We have 4 fully reconditioned machines available!
After fixing the boot in a clamping device, the whole clamping device moves automatically backwards and forwards over the grinding wheel at an even speed. With the new PROSHARP AS1001 anything is possible - from surface grinding up to a 6 millimetre radius.
Key Features:
More.....
The PROSHARP AS1001 achieves uniformly high-quality grinding results with automated grinding cycles, constant pressure and even feed speed. Fully serviced machine! A new machine costs over £5k!
£2000 +VAT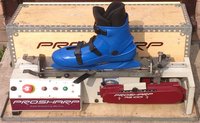 Showing 1 - 1 of 1 items