The Best Place To Buy Or Sell Second Hand Or Used Ice Rinks And Ice Rink Equipment
Search
Showing 1 - 7 of 7 items
Our plastic pipe system is very adaptable and can be added to or extended if required.
The rink is approximately 400 square metres and can be made into a square, rectangle or with a curve at one end.
Rink also comes with: Fibreglass barrier system with support legs * 200 pairs of used skates in a variety of sizes from childs 9 to adult 12 * 6 counter/pigeon holes to house the skates * 20 rubber mats 2m by 1m * 20 benches
Click on this link to see the full listing and contact details
An excellent ice rink package to get you started or for the experienced operator.
£29950 +VAT ono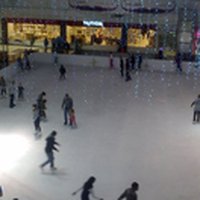 £30000 +VAT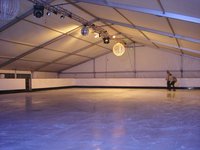 600sqm ice rink, aluminum and only in it's second season.
£89500 +VAT ono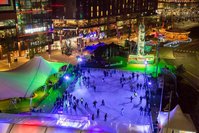 The Hardware - Comes complete with 430 pairs of clip buckle skates (various sizes), 12 storage bins for skates, numbered shelving units for skate hire, one triple head skate sharpener & grinding stones (purchased in Canada & superior to all other skate sharpening systems in the UK), a complete reception area including till system & printer, a cloak room facility, a complete skate return area with bench seating including barrier for entire area as well as a skater rest area. Also included, 45 rubber safety mats for floor protection.
Click here for more info and contact details......
The Rink- A remarkable, 20Mx30M (600 SQM) Ice Rink that comes complete with full surround hard wearing acrylic safety barriers, double gates & piper heading pipes. An all in one Ice Rink unit that is extremely quick & easy to set up and operate, requires a maximum of four days set up time from delivery to operation.
POA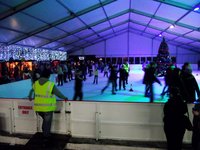 This rink can if required be reduced in size to suit or made into 2 rinks, for example you could have a 20 x 30 (600 sqm) and a 20 x 20 (400sqm). As a single rink it will easily accommodate close to 400 skaters per hour making this an excellent revenue generator.

This ice rink is has been used as a temporary Christmas rink for the past 3 seasons and has also been used for training purposes for ice hockey and figure skating.

.....More
Aluminium ice rink up to 23 metres wide by 50 meters long (1,150 sqm).
£65000 ono VAT Free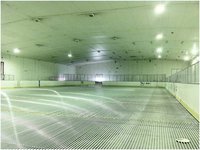 Showing 1 - 7 of 7 items